School Sports & PE
At Gorseybrigg we provide a wide range of sporting opportunities for all children.
This year we have joined up with the North East Derbyshire SHAPE partnership to help provide our school sport competition calendar. SHAPE provide a locally based and meaningful competition structure, rich professional development opportunities for all staff, specialist support for curriculum development, established links to community clubs as well as health and wellbeing, leadership and enrichment programmes.
SHAPE are a longstanding, not for profit, education based provider of Physical Education, school sport and physical activity. The network is unique as it is integrated within both primary and secondary schools across the area with over 70 years' combined expertise for delivering high quality PE, school sport and physical activity. They have links to National Governing Bodies, Public Health England, the Local Authority, Youth Sport Trust, Sport England, Department for Transport and the Department for Digital, Culture, Media and Sport.
Together, with the Partnership, we are continually striving to provide a relevant, suitable and vibrant PE, school sport, physical activity, health and wellbeing offer for all young people. As an ethical partnership, we promote a strong, positive and sustainable approach to Physical Education, school sport and physical activity, allowing every child the opportunity to be involved. Our offer will meet the key performance indicators of the PE and Sport Premium funding grant, have a positive impact on the whole school agenda but more importantly, foster a holistic approach to each child and their development.
Y6 Tag Rugby Tournament - Oct 2022
Our year 6 team were victorious in winning the local tag rugby tournament held on the Gosforth Fields. They did not lose a single game. Well done!!
Y6 Football Final - Oct 2022
The Year 6 Football team played fantastically on Monday. They won every game but sadly lost on penalties in the final. Well done boys.
Y5/6 Girls Football - Oct 2022
The year 5 / 6 girls football team played enthusiastically in their tournament and had a great time. Well done girls.
KS2 Cross Country Event - Nov 2022
Fabulous results today at the KS2 Cross Country Event at Mount St Mary's college.
Y3 Girls Team 2nd place
Y3 Boys Team 1st place
Y4 Girls Team 2nd place
Y4 Boys Team 1st place
Y6 Girls Team 3rd place
Y6 Boys team 2nd place
With some amazing individual performances - 3rd place Y4 girl, 1st place Y4 boy, 2nd place Y5 boy and 3rd place Y6 boy
WELL DONE EVERYONE🥇
Y6 Table Tennins - Nov 2022
Our table tennis team had great fun at Dronfield Henry Fanshawe School. They played with enthusiasm and determination. Well done team.
Y5 Football Tournament - Nov 2022
Well done to the Y5 football team that came third in their group. A great effort by all the team.
Y6 Football Tournament - Dec 2022
Well done to the Y6 football team. They made it through to the semi finals and came 3rd. By all accounts they were a very skilful team that played amazing. Well done.
Y5/6 Football Tournament - Feb 2023
Well done to both our girls and boys football teams. Both teams played fantastically at the tournament, with the boys team coming second and qualifying for the next round. The boys team were also awarded a certificate for fair play - being considerate and thinking of others! We are very proud of both teams.
Y6 Basketball - Feb 2023
The Year 6 Basketball team played very well at Eckington School against some tough competition. Well done guys.
Y5 Sportshall Athletics - March 2023
Y1 Hockey Heroes - March 2023
Y6 Sportshall Athletics - WINNERS
Years 3 & 4 Orienteering Event - March 2023
16 children from Years 3 & 4 took part in an Orienteering event at DHFS yesterday. They demonstrated excellent teamworking skills to complete a series of challenges. Well done.
Mini Marathon
Children from Year 1 to Year 6 have pledged to run, walk or jog one mile as part of the TCS Mini London marathon for school's challenge which is trying to break a Guinness World record .The children were motivated by an inspiration visit from Rebecca Brown, who showed her own medals and spoke to the children about her experiences or running the London Marathon. Watch this space to see if we will be Guiness World record holders!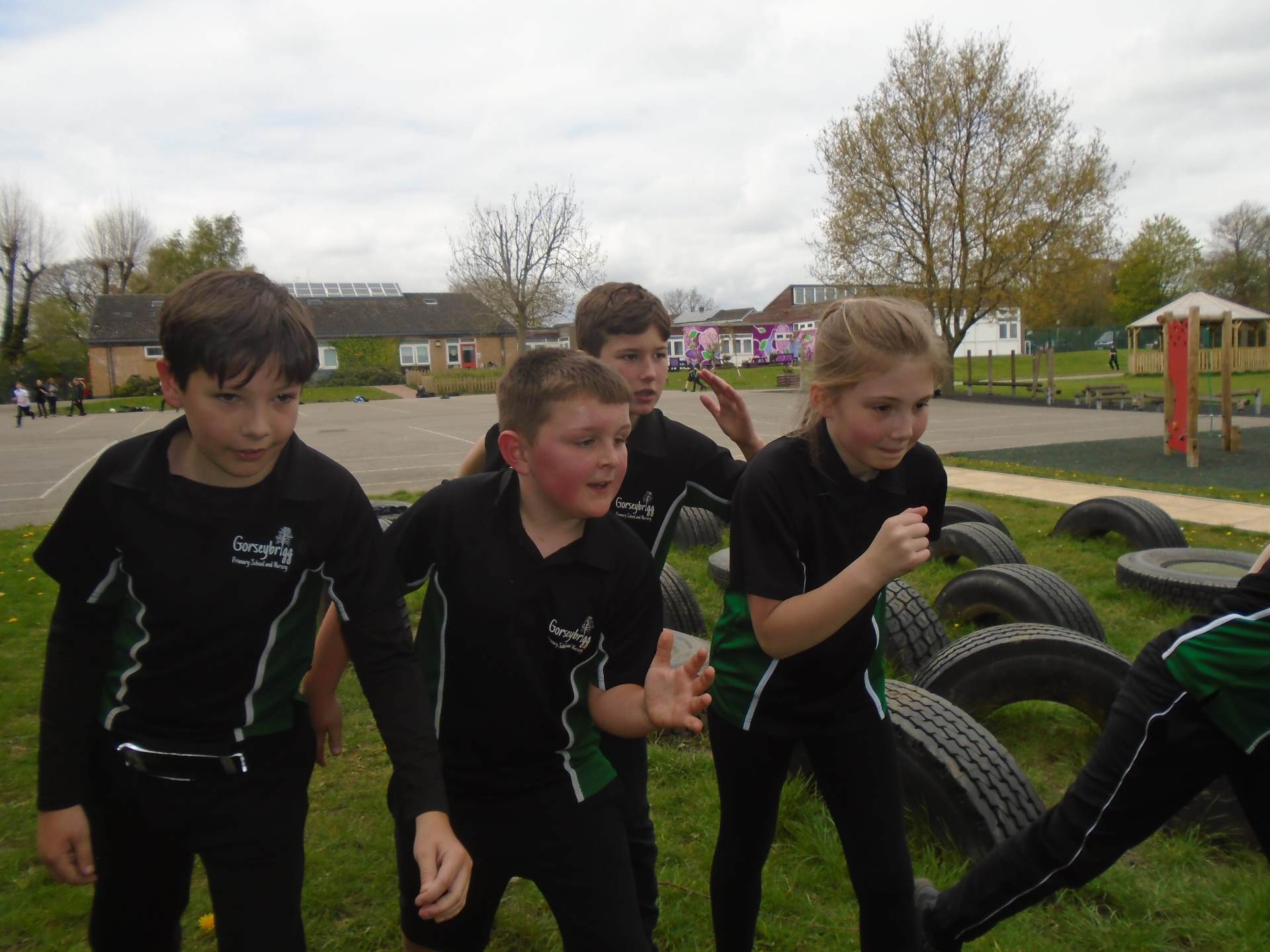 PE and Sports Dates for the Diary
13.01.2023 - FS Balance Bike training
20.01.2023 - FS Balance Bike training
27.01.2023 - FS Balance Bike training
08.02.2023 - Reception Early Racer event at DHFS
14.02.2023 - Y6 Basketball competition at Eckington School
08.03.2023 - Y5 Adventure Fest at Graves Leisure Centre
10.03.2023 - SHAPE ACTIVITY DAY 2
13.03.2023 - Hockey Years 1-3 Chesterfield Hockey Club (am)
13.03.2023 - Y6 Sportshall Athletics competition at Tupton Hall School
21.03.2023 - Y1 Dance Platform at Winding Wheel Chesterfield
24.03.2023 - SHAPE Yoga KS2
27.03.2023 - Y3/4 Orienteering at DHFS
17.04.2023 - Graves Tennis Roadshow (am only) (KS1)
19.04.2023 - Graves Tennis Roadshow (am only) (KS2)
26.04.2023 - Y3 Batting Bonanza at DHFS
04.05.2023 - Y2 Kwikfest at Coal Aston Cricket Club
17.05.2023 - Y4 Tennis Festival at Chesterfield tennis centre
19.05.2023 - Y5 Tennis Festival at Graves Leisure Centre
14.06.2023 - Quad Kids Competition at Tupton Hall School
19.06.2023 - Y5/6 Cricket Competition at Coal Aston Cricket club
26.06.2023 - Y6 Transition Event at DHFS
Kay Christie - PE Coordinator